Details
Details
Chamomile is one of the most popular tisanes (herbal teas) on the planet, mostly for its success in helping folks with insomnia. Matricaria chamomilla represents the so called German or Hungarian chamomile that is grown around the world but Egypt stands as the largest producer. It has a sweet aroma and slightly fruity taste with hints of apple. With so many applications, you can truly get your money's worth with our 1 lb. bulk bags.
U.S.A. Origins: Wild chamomile was first introduced onto American soil by the colonists who brought it form Europe.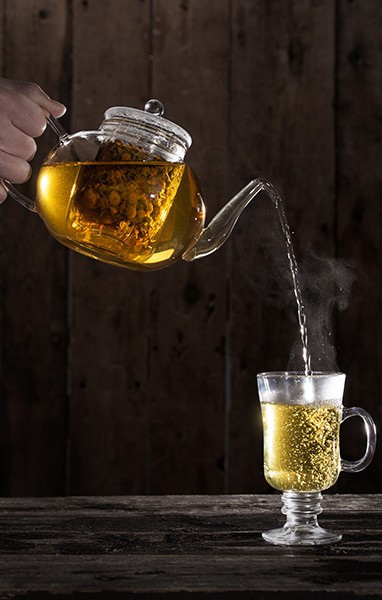 HEALTH: Chamomile has been known as mildly relaxing tea (due to a polyphenol called apigenin). It helps one reach meditative state. Lot of it properties are stemming from anti-inflammatory compounds, flavonoids that reportedly have many miraculous beneficial properties that science is yet to explain. Over the centuries, a variety of cultures have treasured Chamomile for its anti-inflammatory and antimicrobial properties to treat minor cuts and wounds.
COSMETICS: in cosmetics it is known to act smoothing and rejuvenating (probably again due to anti-inflammatory and anti-bacterial properties). It aids in bleaching hair naturally. Namely it Chamomile in combination with glycerol is known to avoid dryness and brittleness, as well as deterioration of appearance, all well knows side effect of bleaching hair with hydrogen peroxide. BTW, chamomile essential oil is used for dandruff reduction and has been known to reduce dark circles under the eyes, lighten skin, and even help clear up acne.
AROMA: Lots of people just love chamomile scent. It is used as mood improving aroma with candles and believe it or not most of the Hollywood actors don't actually smoke tobacco in the movies, it's the chamomile flower filled cigarettes! Airwick has a lavender-chamomile combination that really works well. Not unusual are the minerals bats containing chamomile oils or large sacks of herbal mixes that are steeped into you bath tub. It is said to "sensualizes the senses, relaxes the body, and calms the spirit"
FOODIES ALERT!!! In recent years culinary experts re-discovered chamomile. It is normal nowadays to make liquid nitrogen chamomile ice-cream and microbreweries are offering chamomile beer as standard. Small kombucha breweries also offer chamomile flavored kombucha but just bare in mind that they only add it in the second brew since chamomile is anti-bacterial is going to kill your SCOBY. Mixologist are also having a chamomile blast; Honey chamomile syrup is used as a standardized (made by pouring one cup of simple syrup with 3 grams of young chamomile flowers, leave it "steeping" for a day, straining and wuala). Not to dismiss it, chamomile flowers are also used as a tea J Yes, got that right! It is used in many herbal tea mixes as it's mildly aromatic and not overpowering like peppermint for example. The chamomile notes are subtle. Generally speaking steep it with boiling water and add 3g chamomile per cup of boiling water. The steeping time varies but you get the idea. A Denver based company is making chamomile wine for dogs. It takes a while to process that, but yes, that is factually true.
GROW IT: In the garden, chamomile is friendly with cucumbers and beautiful in the patch among the vines. It smells of summer even on the windy days. Strictly peaking German chamomile is a weed. It is an annual plant but it keeps reseeding itself into infinity. One can grow the plant in the backyard and enjoy the freshest chamomile tea imaginable. Fresh chamomile flowers with a bitter bite, can be sprinkled onto salads, snacks and entrées alike. Do try the Chamomile Panna Cotta.
U.S. Wellness offers several different teas farmed in Bosnia and Egypt, but we are always looking to expand our offerings to satisfy our customer's desires. If there is a particular kind of tea you need to have, please let us know. We are always looking for the next big thing to add to our collection. All of our loose leaf teas come in 1 lbs. bulk packaging because we want you to have complete control over every cup you make. Create your own perfect cup of tea. At U.S. Wellness, we just want to make sure you have the freedom to brew it your way every time.
We package our herbal teas in a DOA certified facility in Ohio before shipping them to our customers. Orders usually take between 2 to 5 business days to arrive at your home. If you need the perfect cup faster, expedited shipping options are available.
To make the perfect cup, boil water and then let sit for 30 sec to 1 min. Place the herbs in a teapot, strainer, or French press. You will need approx. 1 Tablespoon of herbs to 8 oz. of water. Pour water over the herbs and close the container. Allow the Chamomile to steep for around 5 minutes before serving. If you let it steep for longer, the taste will get bitterer.
Additional Info
Additional Info
| | |
| --- | --- |
| Weight Option | 1lb |
| Weight | 1.0000 |
Reviews
Customer Reviews (5)
Daily evening tea

Review by

Jana

I receive this bag and drank my first cup at that night and it made me a big fan immediately. It is very relaxing when faint scent spreading in the mouth. Highly recommend. (Posted on 3/4/2018)

Absolutely organic

Review by

Tanya

Was going to make beauty products thus organic products is very vital for me. The flowers are perfectly dried and intact with fragrance. There is no doubt that they are exactly the organic ingredients I need. What's more, the price is great too. I will order again! (Posted on 12/18/2017)

Not a fan...

Review by

CC

Taste a little bitterer than Chamomiles I used before. I personally don't like it. (Posted on 11/13/2017)

Great product with nice smell

Review by

Kisty

I was very surprised when receiving it. Chamomiles are packed by a huge bag and I am sure that this kind of self seal bag can well preserve the freshness and flavor. Upon opening this bag, the aroma of Chamomile hit me in the face. How nice! (Posted on 11/13/2017)

Quality A Grade

Review by

Janer

I have been heavy chamomile drinker for a decade. Rarely do companies import actually grade A quality. In USA rating system is non-existent so why would they? This are clearly A grade whole flowers and certified organic too. Thank you U.S. Wellness Naturals! I think that lot of people will appreciate the value. (Posted on 1/1/2017)
Write Your Own Review
Tags
This information has not been evaluated by the Food and Drug Administration. This information is not intended to diagnose, treat, cure, or prevent any disease. Please be advised: you should always consult with your doctor before making any changes to your diet.